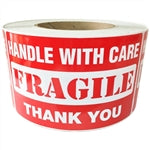 Red Glossy "Handle with Care FRAGILE Thank You" Label - 3" by 5" - 500 ct
Need a sturdy and noticeable "Fragile" label? Our red and white "Fragile" labels are bright and eye-catching.

Our glossy 500 red and white label are 5" wide by 3" tall of a 3 inch core. The text reads: "HANDLE WITH CARE; FRAGILE; THANK YOU."
---
We Also Recommend