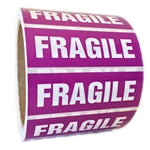 Purple and White Glossy "Fragile" Sticker Label - 1" by 3" - 500 ct
Need a simple purple and white Fragile sticker? Look no further, this fragile sticker is great for shipping your delicate packages!
 



These glossy 500 purple and white labels are 3" wide by 1" tall on a core with 3" of diameter. The text is "FRAGILE."
---
We Also Recommend